About Nunukan Island - Kalimantan
Just east of the Indonesian island of Kalimantan/Borneo, you find a remote chain of islands. On the very southern eastern tip of a lagoon you find the hidden gem that is Nunukan and Extra divers. This is a diver's paradise, where you can mix up sublime reef diving with adrenalin pumping shark dives and gaze on manta being cleaned. It's time to forget about the rest of the world. Dive, eat and enjoy the remote isolation of Nunkan resort. Nunukan has been lovingly built into a small island - the island and resort are 1! Nunukan boasts 22 comfortable and spacious bungalows, touching the island's sandy southern shores with views over the lagoon. The bungalows all have air con and a sea view patio and day bed, that opens out onto the white sandy beach. Take your siesta in the shade or lap up the warm Indonesian rays! All of the bungalows are en suite. To the north of the island you find the main buildings, with shaded paths leading you between the verdant gardens, right up to the water's edge. The restaurant is open air, and handily right next to the bar. The food is Asian Pacific - you can chose between half board or full board, although we recommend you enjoy the benefits of full board for the ultimate experience. There is a small shop, stock with essentials, and of course the all important dive centre. Grab a tank - it's time to explore that exceptional 4km long house reef! Spa massage services are available on request.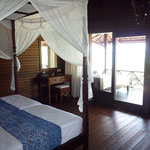 The stylish bungalows are located directly on the white sand beach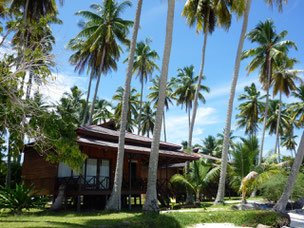 All bungalows are equipped with a four-poster bed with mosquito net, air conditioning, minibar, safety box and veranda with a large bed for relaxing, toilet and shower with hot & cold water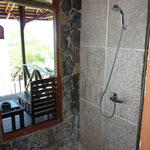 From the covered but open bathroom you can enjoy the breathtaking view of the turquoise lagoon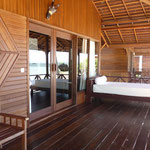 For sun junkies there are beach chairs waiting in front of the bungalows
We would be happy to put together a tailormade booking for you, please fill in your details below and one of our diving holiday experts will be in touch with you to discuss your plans.
Frequently Asked Questions
Location
Indonesia is around 15-20 hours flight from the UK and is made up of around 18 000 islands. It is the largest archipelago in the world straddling the Equator, between the Indian and Pacific Oceans. Most travellers will enter Indonesia through Jakarta (CGK), Bali (DPS) or Manado (MDC) airports. This is the stuff of divers' dreams. This exotic nation is the very definition of bio diversity. Find the big fish in Komodo, Raja Ampat or Kalimantan. Drift lazily along the walls of Bunaken and Wakatobi, watching turtles on coral drenched walls. While away the hours hunting for miniscule macro in Bali, Lembeh or Ambon. Cannot decide? Why not combine two locations into a single trip!
Weather and Climate
Indonesia is a vast country, and the weather can be hugley variable. The topography means that weather patterns can be very localised. This is the tropics! For Bali, Komodo & Wakatobi the weather is usually best from April - November, with July and August being some of the best months to visit. Between December and March the conditions can be a bit stormy. November to April is also the wettest month to visit Bunaken, Lembeh and Kalimantan but to a lesser degree than in other locations. October to April is historically the most popular time to dive in Raja Ampat.
Travel
Flight options
As standard, our holidays to Indonesia are quoted with London departures. We are however able to book most major airlines. Popular options for Indonesia include Cathay Pacific (40kgs hold allowance), Singapore airlines, Qatar, Emirates, Malaysian, KLM and Gaurda. If you would like to depart from a different UK airport (eg. Glasgow/Edinburgh, Manchester, Birmingham or Gatwick) or have a specific airline you prefer to fly with, simply let us know in your booking request. A supplement may apply for regional departures. Times and any applicable supplements will be confirmed by your travel consultant before you finalise your holiday.  If you wish to make your own flight arrangements to Indonesia, let us know and we can remove the cost of the international flights from your quote. We are unfortunately not able to redeem airmiles on your behalf. Please do not confirm any flight arrangements yourself before your holiday is confirmed by us.
Stopovers
With a huge range of airlines to fly with, you can easily build in a stop over either on your way to or on your way back from Indonesia. Simply talk to your travel consultant about adding a stop over into your itinerary.
Arrange before you go
Visa requirements
UK Passport holders landing in Jakarta, Bali or Manado are able to obtain a free 30 day visa on arrival. It is your responsibility to ensure your passport is valid and you fulfil entry requirements. Regulations can change: please review current FCO advice: click here
Insurance
Scuba Travel requires all of our customers to have diving insurance. Please make sure that you have appropriate cover for your diving activities. We also strongly recommend you have travel insurance. It's worth taking out travel insurance once you have paid your deposit to ensure you are covered for unforeseen events and cancellation. Find out more about our combined dive and travel policy click here
Immunisations
Please speak to your local GP or check out the latest NHS advice on travel immunisations: click here
Preparing to fly
Seating
You will also be able to manage your booking online once you have been ticketed (after you have paid your holiday balance). Most airlines will now enable you to select your seating at this point. There may be a small charge for prebookable seating before online check in opens. Please speak to the airline for more information about charges.
Check in
As you are flying with a scheduled airline, you will be able to check in online with your airline. Please visit their website for more information about when online check in opens.
Lounge
An airport lounge is a great way to start your holiday or to while away flight connections in comfort. Scuba Travel works with Lounge Pass to offer a huge range of affordable airport lounges around the world. click here
Parking
Prebook your airport parking to save money! If you have a long way to travel, why not also look at booking an airport hotel. These aren't as expensive as you might think. click here
What happens when I arrive?
On arrival in your Indonesia destination, you will need to clear immigration and collect your baggage. You will then be met outside of arrivals by a representative from your liveaboard or resort. Some reps are able to meet you airside. They will be holding a board with either your destination or your name on it. If you have any issues at all locating your rep, please contact us. We have an emergency contact, manned by a member of the team here in the UK. Please call 0044 7747 488 002. We will be able to help your rep locate you in the airport.
Transfers
If you have a hotel en route please follow any specific instructions in your travel documents. Where possible, you will be met by a representative who will assist in taking you to your hotel. If using a shuttle service, please arrange your return shuttle time back to the airport at the hotel check in. Domestic flights are common in Indonesia and run frequently. The major hubs of Jakarta, Bali and Manado all have separate terminals for domestic and international departures. Just follow the signs to move between international and domestic terminals. The service has improved vastly, but there can still be last minute schedule changes. Please ensure you leave plenty of time for check in or transit between flights (usually 4 hours min). Domestic flights can typically only be booked with a 20kgs hold allowance as standard. Excess baggage must be paid for in Indonesian rupiah and costs around $2-$5 per kg per way. Due to local traffic and road conditions, land journey times can be difficult to predict. We recommend you take water with you and keep any essentials in your hand baggage to make your journey as comfortable as possible.
Departures
At the end of your holiday, your return transfer details will be advised locally. As of Feb 2015, the departure tax for all domestic and international flights is built into your flight ticket price.
Info
Included in your holiday
Excluded
A 10% VAT is applied to all local purchases
Tipping
Tipping is entirely at your discretion. We do not make recommendations as to how much to tip. Should you wish to leave a tip for the staff and crew, it should reflect the level of service you have enjoyed.
Currency
All our prices are listed in Euro. All extra costs (drinks, tips, extra dives and so on) can be paid in Euro, USD & Rupiah. Please consider that foreign banknotes have to be in perfect condition – otherwise Indonesian banks will not accept them for change or reduces their value to a bad currency exchange rate. US-Dollar notes are only accepted if they are from 2009 or younger and with no damages. The resort is unable to accept any credit card payments.
Phone coverage
Plugs and electricity
Extras
Hire equipment
A full range of scuba and snorkelling equipment is available on site - please ask for a local charge price list
Extras
PADI dive courses can be arranged - please ask for more information about pre-booking
Souvenirs
The dive centre has a small, limited shop on site
Nitrox/Gas
€6 per dive
Payments
Deposits and Balances
A typical deposit for a holiday to Nunukan is &pound400-&pound800 per person, although this will depend on your exact flight option and travel class. Larger deposits may be required for some flight options (eg premium economy/business class).
Ways to pay
We accept mastercard and visa debit or credit cards. Alternatively, you are welcome to pay via bank transfer. All non sterling card payments and UK business debit cards will be subject to the 2% surcharge. Overseas bank transfers must add &pound6 to the sterling total to cover international handling fees. We are not able to accept PayPal transactions.
Group Payments
If you have booked as part of a group, you can still call and pay directly without needing to go via your group leader. Please have your trip reference number to hand to help us locate your holiday as quickly as possible. You will receive a transaction receipt - your group leader will forward your ATOL certificate and booking confirmation
Discounts
Repeat Guests
Are you one of Scuba Travel's repeat customers? Over 60% of our customers trust Scuba Travel to book their next diving holiday, time after time. And we believe you deserve a huge thanks for your ongoing support over the years, which is what our loyalty discount is all about! If you have booked directly with Scuba Travel, on your 3rd full price holiday you will automatically be eligible for a loyalty discount. That's all you have to do. No forms, no numbers to remember, no fuss, just a good honest price reduction. We are always happy to offer discounts as described below but these are not cumulative and we do not offer further discounts on special offer prices. 5% off for loyalty customers
Nunukan is the place to head for outstanding reef diving. Long dives along lavish coral gardens await. Take a special trip to Sangalaki to watch manta being cleaned or head to Kakaban for the jelly fish lake. From big to small, the diving is diverse and no body knows it better than the team than Extra Divers Nunukan.
4km of house reef to explore with boat drop off/pick up service
Manta at Sangalaki and jelly fish lake at Kakaban accessible by boat - local surcharge applies
2 speed boats
Range of PADI & SSI courses
Nitrox available for a local charge
The team at Nunukan are professional, experienced and passionate about their corner of paradise. You can take PADI and SSI courses in the resort or simply enjoy their eagle eyes as the guides show you around. House reef dives are usually unguided but for a small local surcharge you can be accompanied by your very own spotter! One of the undeniable hlighlights at Nunukan is the house reef. At 4km long, it feels endless underwater - as standard your diving package will include unguided house reef diving so just grab a tank and enjoy! As you'd expect from Indonesia, the macro life is spectacular, with all manner of small critters to hunt out. It's also a great spot for turtles and rays cruise by. The "tuk-tuk" boat service will drop you off or pick you up along the house reef. Mix things up with a special trip to Sangalaki to see the manta or swim with jellyfish at Kakaban. The northern pelagic sites such as Big Fish Country are also accessible as day trips.
Diving Rates & Prices
If you pre-book your diving as part of a holiday package with Scuba Travel you can take advantage of our special rates and make considerable savings on your dive package or dive course at Nunukan Island - Kalimantan